Glitz and Glamour
Posted by Bonnie DuPree on Wednesday, September 28, 2022 at 12:14 AM
By Bonnie DuPree / September 28, 2022
Comment
Do you need to get your Glam on? Are you ready to sparkle? Our local boutique, Glitz and Glamour, which you can find in the downtown area of Murphy, might be just what you're looking for. When you walk in you are immediately treated like one of the family. Just tell them what you're looking for, and they will take you straight to it.
I went today because I follow them on Social Media, and they said they put all of their Fall stuff out. Me? I'm ready for Fall in July. I went to look around and take stock, and they always remember me; they know where my kids went to college, and they always show me any new jewelry that has come in representing that school. I wear our colors every Game Day!
While walking around the boutique I noticed everything they had. I observed the new jewelry displayed along with some pajamas and slippers right when you walk in. I have a thing for graphic tees (I own way more than any one person should), and they have many new ones. They are so cool! I was particularly fond of the Dolly Parton and Yellowstone tees. You know what else they have? The trendy guitar strap handbags in the fall tones and FABULOUS straps. I will be going back for the green one! I also wanted the red and black buffalo plaid wristlet. Those were catching my eye, too. It's a dangerous place for the checking account!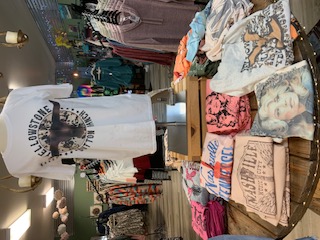 There are jeans, tops, dresses everywhere I look! You know what? They have NOT forgotten about our full-figured gals. You, too, can look marvelous! After touching and feeling every garment and fabric I noticed the fall candles. Fall candles are my favorite scents, and they had several. There were tumblers and mugs and koozies and more! Need a gift? You can get one there!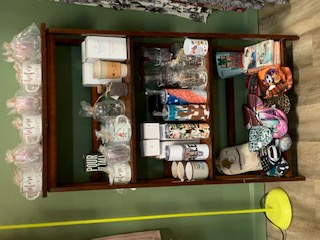 Once again I cannot emphasize enough how much jewelry they have there. There is jewelry for every age and taste and fandom. Then when you get to the cashier, and you think you're done, you find the unique snacks/chocolates. Seriously.
So go and visit Glitz and Glamour at 41 Tennessee Street in Murphy. Tell them we sent you!